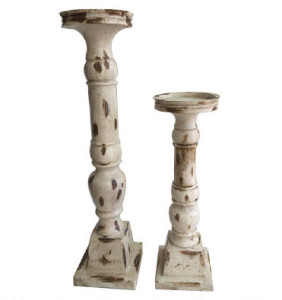 Wooden Candleholder Set

Our shabby chic wooden candleholder set looks great on any mantle setting or table top.
Quantity: 1
Dimensions: 12″ & 16.5″
Price: $8.00/set
Availability: take note of what you like, fill out our Questionnaire Form on our Contact Page and let us know the details of your event (date & location), what you are interested in and we'll get back to you with availability and final price quotes.
Note: Candles are not included in rental.