Summer is finally here and we couldn't have been more excited when our client Cynthia told us she wanted to throw a beach party to celebrate summer solstice!  She organizes this party every summer and decided that she wanted to add more style to her party this year, that's where we come into the picture-event styling is our specialty!
The location of the party was at Huntington Beach and is the perfect place to have a beach/bonfire party for large groups of people.  The sun was out all day long and even though it was a bit windy at times it was still amazing beach weather.
We set up a lounge/game area using our favorite beach accessories and games, including our new bamboo beach chairs, large yard games & inflatable swan.  Our canopy was great for extra shading and also for keeping all of the food and drinks out of the sun as well.  I especially loved the little details, like our Seattle market bag as a beach towel holder and adding a bit of glam to the beach chairs with our gold striped bow pillows.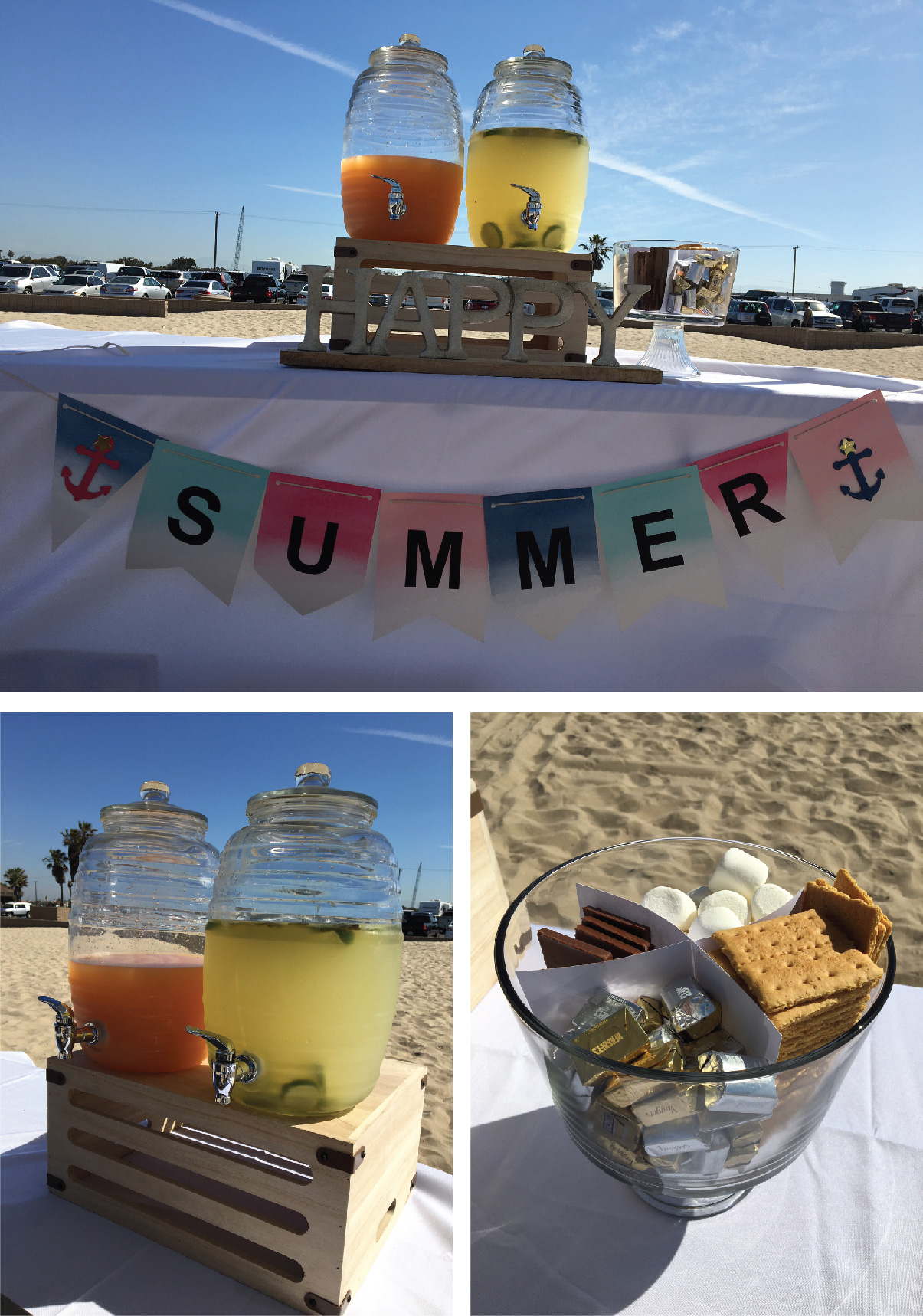 The party was a potluck, so everyone would bring in different foods and drinks.  But to start off we had sunset sangria & minted lemonade drinks served in our glass beverage dispensers- they were both very good!  And of course, we had all the items you would need for s'mores all set up in our glass trifle bowl for the bonfire later that night.
We set up a nice and intimate seating area around the fire pit for the bonfire.  After a fun day of activities on the beach, Cynthia and her friends will be able to relax and enjoy themselves around the fire pit surrounded by lush pillows and beautiful candlelight!  Now doesn't that sound wonderful? 😉
The party was a huge success and was the best way to celebrate summer.  Everyone had a blast with all of our games and especially with our inflatable swan.  Even I had to get in on the fun and take a photo with Ms. Swan too!
Thanks to my Oh So Pretty Events & Rentals team for waking up at the butt crack of dawn to set everything up & thanks to Cynthia for letting us be a part of your fun party!!
XoXo, Anna
**Rental items used**